Engaging your two to three-year-olds in stimulating activities is crucial, as they are actively progressing through various developmental milestones. It's essential to provide suitable activities for 2-year-olds and activities for 3-year-olds that not only keep them engaged but also foster their learning.
Toddlers in this age group have an incredible capacity for learning and exploration. They may be honing their fine motor skills and hand-eye coordination on one day, and the next day, they could be reinforcing their understanding of letters and numbers. During this stage, they absorb information like little sponges.
To keep your home lively and educational for your 2-3 year olds, here are some cost-effective yet enjoyable activities tailored to their age group!
Related: 21 Important Things to Teach Your 2 Year Old
What are some suitable indoor activities for 2-year-olds and 3-year-olds on a rainy day?
On rainy days, you can engage your little ones with activities like indoor scavenger hunts, building forts with blankets and pillows, or having a fun arts and crafts session with materials like colored paper, crayons, and safety scissors.
How can I encourage my 2-year-old to improve their fine motor skills through play?
You can enhance fine motor skills by introducing activities like playing with playdough, finger painting, or letting them practice stacking blocks. These activities promote hand-eye coordination and finger dexterity.
How can I make learning letters and numbers fun for my 2-year-old?
Learning letters and numbers can be made fun by using alphabet and number puzzles, incorporating them into everyday play, and singing songs or rhymes that involve counting and the alphabet.
Our Favorite Activities for 2-3 Year Olds
Play Dress Up
Most little kids love to play dress-up. It encourages creativity and imagination, and if you include friends, playing dress up also encourages social development.
My favorite set is this 21 piece Disney Princess Trunk. It has four full outfits for your little princess to enjoy.
Sorting colors is a quick and simple activity to do with your toddler- they will have so much fun, they will not even notice how much learning is going on.
Most parents have muffin tins, and they're perfect to use for sorting colors. All you need is some construction paper and something to sort. We love the rainbow bears!
Read Books Together
One of the best things you can do with your 2-3 year old is to read books together. Reading books helps your child develop their early language skills and takes them away on fun adventures.
Reading to your kids is one of the best things you can do for their future education, so use up all opportunities you can!
Related: 20+ Best Books for 2 Year Olds
Apples are a quintessential fall theme since all of the local orchards open for picking. Who doesn't love some apple cider? So, grab some apple printables to go along with the theme.
These apple number match is great for toddlers and preschoolers who need practice counting from 1-20. They work on various skills, such as:
Practice Counting
Number Recognition
One-to-One Correspondence
Play Board Games
Board games might not be your first thought when finding activities for 2-3 year olds, but kids love them. If you find board games that work for your child, you will enjoy them together. They're perfect family activities!
Related: Perfect Board Games for 2 Year Olds
This clothespin letter match activity is perfect for a cold winter day when you are looking for an activity with very little supplies and easy set up.
The best thing about this activity is it is using supplies you probably already have laying around the house! All you need is clothespins, a paper plate, and a marker.
Q-Tip Painting
Grab some cotton swabs and paper. You can practice early pre-writing skills with your 2-3 year old. Start by writing out letters or shapes on the paper and give them cotton swabs to paint with.
It's definitely one of my favorite activities for 2-3 year olds. We always have cotton swabs available, and a little bit of paint goes a long way with using these for painting. Plus, holding the cotton swabs help with fine motor skills!
Color in a Coloring Book
Sometimes, you don't need fancy activities for 2-3 year olds. All you need is some nice coloring books and crayons.
My kids are LOVING these new Twistable Crayons since they never seemed to want to use crayons after they got to the paper. These always seem new.
I grab coloring books at the grocery store; they're cheap at the Dollar Tree as well!
Sensory bottles can be a calming experience for your little one. They're great for babies, toddlers, preschoolers or any child who loves visually stimulating objects.
The great thing is you don't have to buy them! Instead, you can save money and make them yourself at home with inexpensive materials from the store and what you already have in hand.
Splash in the Bathtub
Once again, skip those complicated activities for 2-3 year olds and put your kid in the bathtub. Toddlers and preschoolers love to splash, so toss in some bath toys.
I promise you; your child will be entertained!
Our house loves all things ocean related like sharks and whales. So, I made this set of dot printables for my preschoolers to enjoy.
2-3 year olds love dot markers! These are fun for coloring and activities; we use them all the time. Grab a set and my favorite ocean dot activities printables.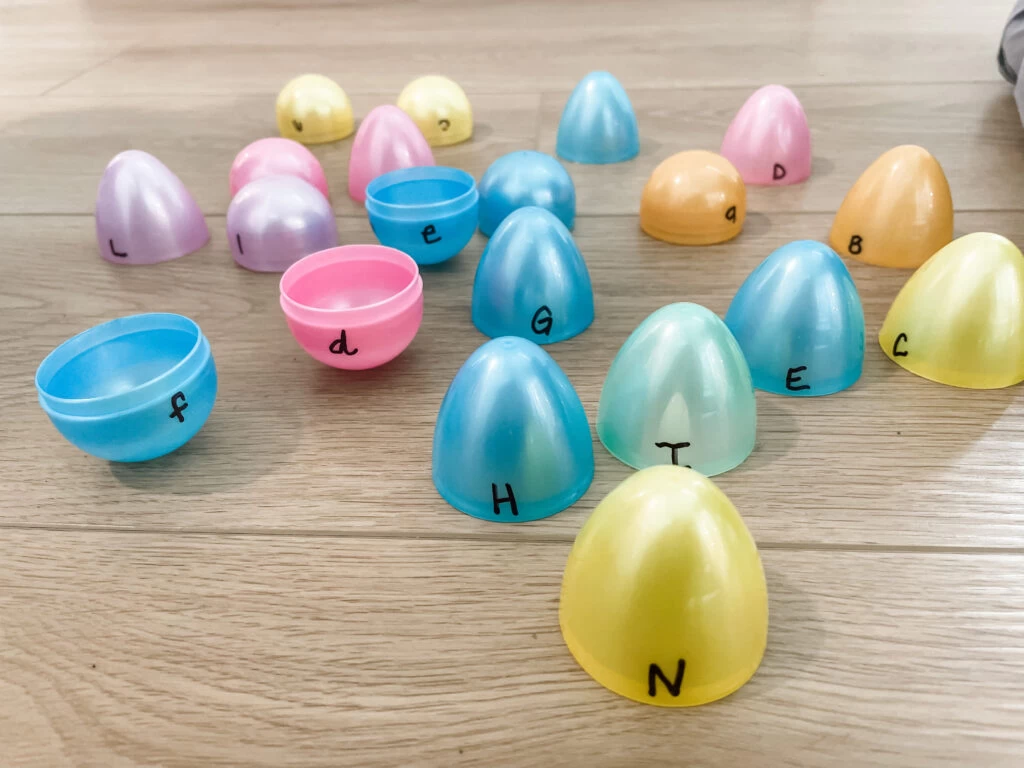 Use Easter eggs to play a letter match game to help your child learn their uppercase and lowercase letters while having fun with a favorite – and cheap – toy. All you have to do is use a permanent marker to write an uppercase case or lowercase letter on either side of the egg.
Then, your child has to find the matching one!
Washing Toys
Grab some play trucks and fill a small tub with water. Give your child a sponge and some dish soap. Then, let him wash them!
It's such a simple idea, but it's still fun for little kids regardless. 2-3 year olds love imaginative play like this that also focuses on real life skills.
Fishing for Letters is a simple activity that your toddler will love! There is very little prep and it also creates a fun learning experience for them. You can use various tools besides bath letters for whatever your child is learning at the time, whether it be shapes, animals, numbers, etc.
Grab a baby pool and some foam letters. It's easy to throw this activity together on a warm summer day!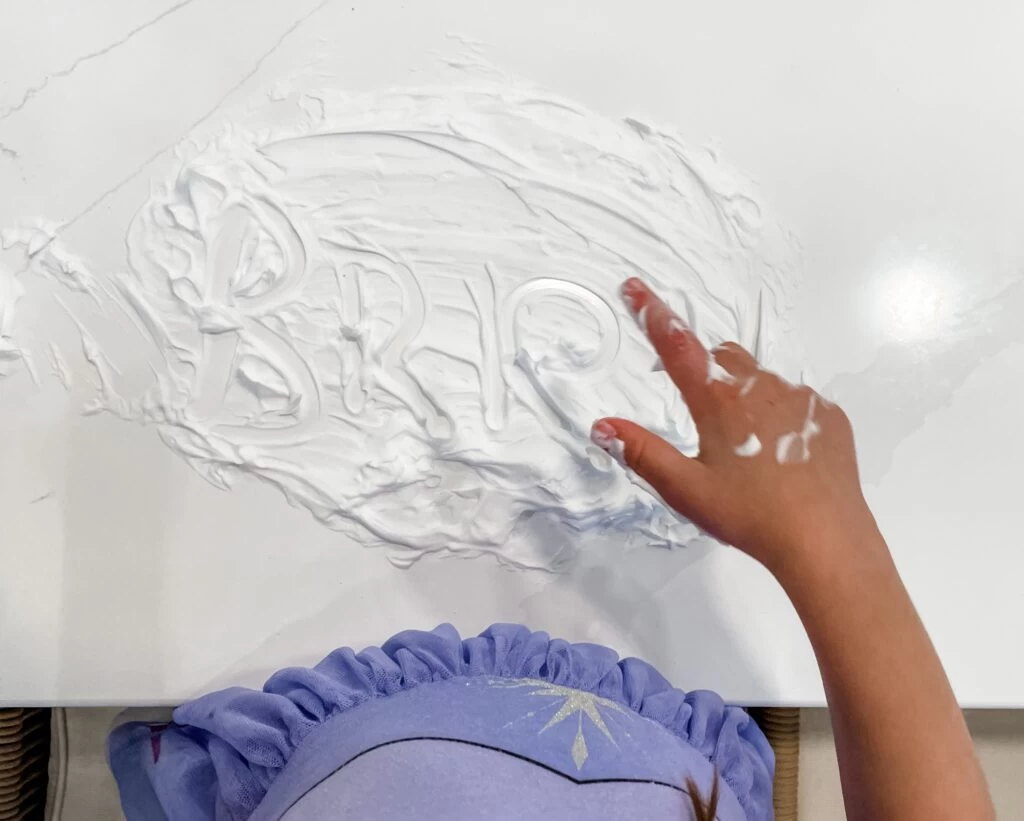 It's really easy to practice shaving cream writing, and if you're worried that your toddler will put it in their mouth, whipped cream works well too.
This is one of those activities I bet you did when you were in school; it's an excellent pre-writing activity. Let your child draw out shapes, letters, and CVC words as they learn them!
Enjoy Some Stickers
Want to keep your 2-3 year old busy for awhile? Give him some paper and a book of stickers. Kids love to stick stickers somewhere, so give them an appropriate outlet to do so.
Related: 31 Fun and Simple Sticker Activities for Toddlers and Preschoolers
Work on Puzzles
Puzzles are great for little kids. Make sure you get chunky puzzles with only a few pieces; I like the ones with the knobs for easy holding.
One of my kids' favorite puzzles is the Melissa & Doug Farm Animal Puzzle. It's easy for 2-3 year olds, and each piece has a peg for easy grabbing.
This sidewalk chalk shape game is as simple as it gets and will keep your toddler or preschooler busy for a bit!
All you need is some sidewalk chalk and pavement and you have a fun game for your little one. It's like a life-size game board where your child can learn, explore, or practice their shapes and colors.
Play Simon Says
Start with simple directions like "Simon says touch your toes." Over time, move into silly things like "Simon says hop on your foot or tug your ear."
This is a great game to develop gross motor skills and work on following directions. Plus, you can play this game with your older kids as well as little kids. Everyone thinks Simon says is fun!
Kids love finger painting, but not everyone wants to deal with the mess. Some days, I just want my kids to have fun without having to scrub up paint that ends up everywhere.
Instead, use this no-mess finger paint activity. Finger paint works great in plastic bags, and kids still get to squish and have fun.
Cutting is an important skill for 2-3 year olds to begin practicing. It takes years to master, but they need the practice. One of the best ways to practice cutting is to use Play-Doh.
All you have to do is give your toddler or preschooler a set of kid-safe scissors and some play dough. Tell them to roll it out like a snake and cut it into pieces. It's fun and easy to put together!
Another way to practice cutting is with cutting strips. I set out a basket for my preschooler, and he can practice cutting whenever he wants.
Cutting strips have different lines and shapes for your child to cut. It gives them direction rather than just cutting small pieces of paper all over your floor.
Grab my free printable winter cutting strips!
If you need activities for 2-3 year olds to stay busy in the winter, make a winter sensory bin with fake snow. Grab some items you have around the house and make a winter wonderland for your child to enjoy.
Related: DIY Fake Snow For Sensory Play
Kids love sensory activities, and they also love playing in water. An Easter egg water scoop activity will keep your 2-3 year old busy for awhile.
It's definitely a crowd pleaser, and I suggest putting down a towel to reduce your clean up. All you have to do is put Easter eggs into a container of water, and give your child a spoon or cup for scooping them.
He will have tons of fun!
Young children LOVE to get messy! Their little hands and minds are so eager to dig into whatever materials they can find.
One fun and messy sensory experience for babies, toddlers, or preschoolers is playing with Jell-O. In fact, any gelatin material will provide endless fun and sensory play for your child. Simply mix in some toys or fun new objects and you've got an exciting new activity for your little one.
Fall is the perfect time to head to local pumpkin patches or apple orchards. You can add to the fun by bringing along a fall farm scavenger hunt. It keeps your child entertained and watching for everything on the list!
This PomPom Tube Drop activity is very simple and only requires 3 items. Most of them you probably already have at home, making it one of our favorite activities for 2-3 year olds. I love when I have what is needed on hand!
Fine Motor Activities for 2 – 3 Year Olds
Roll, squish, and shape playdough into various forms, allowing your little ones to exercise their fine motor skills and unleash their creativity.
Provide large, colorful beads and a shoelace or string. Encourage your child to thread the beads, enhancing their hand-eye coordination.
Finger Painting
Finger painting is a fantastic fine motor activity. Give your child non-toxic finger paints and let them explore their artistic talents on paper.
Related Post: Why are Fine Motor Skills Important?
Learning With Letters and Numbers
Hide foam letters around the room or outside and have your child find them. Or as an alternative write letters and have your child find items that begin with that letter.
As they find each letter, you can say its name together, helping them become familiar with the alphabet.
Create number cards and corresponding cards with the same number of dots or objects. Let your child match the numbers, introducing them to early math concepts.
Use everyday objects like buttons or candies to practice counting. Count them together, and make it a game to see who can count the most.
Sensory Play
Fill a container with rice, beans, or sand and hide small toys or objects within. Your child will enjoy digging and discovering hidden treasures, stimulating their sense of touch.
Water Play
On a warm day, set up a water table or simply provide bowls of water and various containers. Let them pour, splash, and experiment with water.
Take nature walks and encourage your child to touch leaves, flowers, and rocks. Describe the different textures and colors they encounter.
---
You don't need a planned activity for your toddler or preschooler each day. Free play is always a favorite, but try adding a few planned activities to your week. It will help your child develop new skills and have fun, especially when it's too cold to go outside!