The holiday season is upon us, and what better way to celebrate than by engaging in delightful Christmas crafts with your little ones?
Crafting not only sparks creativity but also fosters a sense of togetherness and joy.
In this blog post, we'll explore a variety of Christmas crafts specifically designed for toddlers and preschoolers, ensuring that the festive spirit is alive and well in your home.
Why Christmas Crafts Matter for Toddlers and Preschoolers?
Engaging in Christmas crafts offers numerous benefits for toddlers and preschoolers. It enhances fine motor skills, encourages creativity, and provides a platform for imaginative expression.
Moreover, crafting together promotes bonding and creates lasting memories.
How can I make crafting safe for my toddler or preschooler?
Crafting with young children requires a bit of preparation. Here are some safety tips:
Choose age-appropriate materials: Opt for non-toxic, washable materials and avoid small items that could pose a choking hazard.
Supervise closely: Always keep a watchful eye on your child, especially when using scissors or other potentially dangerous tools.
Establish a designated crafting area: Set up a dedicated space for crafting to contain messes and create a focused environment.
How can I keep my child engaged during crafting?
Crafting with toddlers and preschoolers can sometimes be challenging. Here are some tips to keep them engaged:
Keep it short and sweet: Young children have short attention spans, so opt for quick and easy crafts.
Offer choices: Provide a selection of materials and let your child choose which ones they want to use.
Make it a game: Turn crafting into a game by incorporating storytelling or setting a challenge.
How do I encourage my child's creativity during Christmas crafting?
Fostering creativity is crucial during crafting sessions. Here are some strategies:
Provide open-ended materials: Offer a variety of materials and let your child decide how to use them.
Encourage storytelling: Ask your child to create a story around their craft, fostering imaginative thinking.
Celebrate uniqueness: Emphasize that there's no right or wrong way to craft, and each creation is special.
How can I involve my child in the Christmas crafting process?
Involving your child in the crafting process enhances their sense of ownership and enjoyment. Here's how:
Let them choose: Allow your child to choose the craft they want to do or the materials they want to use.
Collaborate on ideas: Brainstorm together and incorporate your child's suggestions into the crafting plan.
Display their creations: Showcase their finished crafts prominently to boost their sense of accomplishment.
Our Favorite Christmas Crafts for Kids
Handprint or Footprint Crafts
Handprint and footprint crafts are an iconic Christmas Craft tradition, from reindeer to Christmas trees or even the grinch – the possibilities are endless!
Reindeer Handprint or Footprint
One of the most cherished Christmas crafts for toddlers is creating handprint and footprint reindeers. All you need are some washable paints, paper, and a willing pair of little hands and feet. This craft not only produces adorable keepsakes but also captures the essence of the holiday season.
Christmas Tree Handprint
Everyone loves handprint Christmas trees! With a little paint and some patience, you can have an adorable Christmas craft for your kids.
Handprint Santa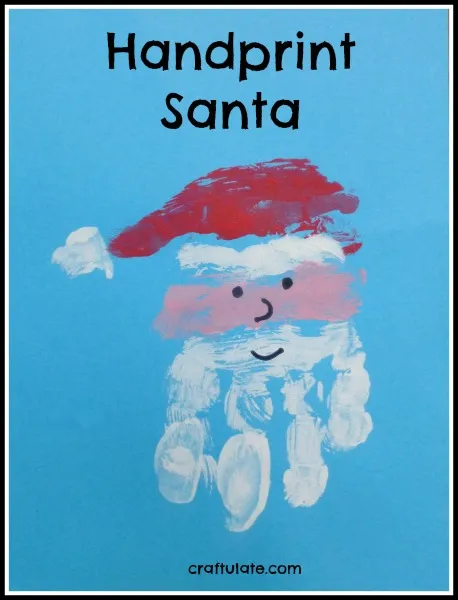 Handprint Santas are a fun way to preserve a special moment in your child's life. You'll need red and white paint, plus a marker for the final details.
Related Post: Santa Crafts for Kids
Handprint Grinch
Merry Grinchmas! This grinch handprint Christmas craft is a fun and unique way to craft with your kids this Christmas.
Christmas Tree Fingerprint
As an alternative to handprints or footprints, this fingerprint Christmas tree is a lovely craft to try with little ones! You can make this just the same way as the reindeer by painting your child's finger tip and pressing onto the card (they will need some guidance on this – you could draw some faint dots to give them an idea)
DIY Christmas Ornaments
Transform your tree into a gallery of your child's artwork with personalized DIY Christmas ornaments. From salt dough ornaments to paper plate creations, the possibilities are endless. These ornaments make for wonderful gifts and keepsakes that you can cherish for years to come.
Tinfoil Ornaments
This Christmas activity makes beautiful ornaments that can be hung on the tree every Christmas. Tin foil is so fun and easy to work with. Plus they are so shiny and sparkly on the tree!
Dried Orange Slices
Making dried orange slices is really straight forward. All you need is oranges and an oven! Plus they will have your house smelling AMAZING!
Coloring Book Ornaments
It's so easy that preschoolers and kindergarteners can do it! The best part is, even when you're done making salt dough Christmas ornaments, you can use this Christmas printable as a coloring page.
Candy Cane Ornaments
These candy cane ornaments are easy, simple, and fun! Plus you can work on math and pattering skills while you are at it!
No Cook Cinnamon Ornaments
No cook cinnamon ornaments are easy to make and will smell delicious hanging on your tree! You can leave them as is, or use acrylic paints to decorate!
Decorate Your Own Stockings
Give your toddler or preschooler the chance to design their very own Christmas stockings. Provide an assortment of fabric markers, glitter glue, and stickers to let their imagination run wild. This not only results in a unique decoration but also serves as a personalized touch to your holiday decor.
DIY Personalized Stocking
Turn a basic Christmas stocking into a craftabulous work of art with the help of colorful Kid Made Modern supplies like textile spray paint, felt ornaments, and pom-poms. Santa won't be able to miss these one-of-a-kind stockings when he comes to your house!
Fabric Paint Stocking
Grab some fabric paint and have at it! You can use the paint to write names, draw characters, or make fun designs.
Grab a Christmas color book, put some felt on the pictures you want, and cut them out. Glue it on the stocking. Use glitter for the name.
Gingerbread Men Christmas Crafts
Bring the magic of gingerbread into your crafting session with easy gingerbread man activities. It's a great way to work on cutting skills while creating a festive decoration for your home. Ask your little one about the features they love most about their gingerbread creation.
Gingerbread House Name
Your child will have so much fun coloring, cutting, gluing, and writing to place their name on the gingerbread house.
Decorate a Gingerbread Person
You can be as creative as you want and let your little ones have fun with this free printable gingerbread person!
Gingerbread Man Puppet
One great thing about making paper bag puppets is they're so simple to make! All you need are a few common supplies, which you probably already have and you're set.
Toilet Paper Roll Gingerbread Man
This toilet paper roll gingerbread man craft is yet another holiday craft idea using simple, inexpensive, and recycled materials.
Related Post: 30 Gingerbread Men Printables
Snowflake Christmas Crafts
Create a winter wonderland indoors with snowflakes. These simple yet enchanting crafts not only hone fine motor skills but also introduce the concept of symmetry. Encourage your child to experiment with different patterns and colors to make each snowflake unique.
Mosaic Snowflake
This paper mosaic snowflake is a great way to practice scissor skills and is a good fine motor activity too.
Cut some colored scrap paper into pieces and then glue it into place on your snowflake!
Paper Plate Snowflakes
These no-mess snowflake plates are perfect for toddlers, preschoolers, and even babies who want to join in on the fun!
Fork Snowflakes
Such an easy and fun craft for little ones all you need is white paint, a fork, and some blue paper.
Easy Snowflake Craft
This snowflake craft is simple to set up and easy for kids of all ages to create. From toddlers to preschoolers to Kindergarten and beyond, this seasonal activity can be adapted for anyone.
Pipe Cleaner Snowflakes
If you have some pipe cleaners lying around, these pipe cleaner snowflakes have to be one of the easiest ornaments you can make! And we love how there are so many different ways to make them too!
Rudolph the Red-Nosed Reindeer
Bring the beloved reindeer to life with Christmas Crafts. These crafts are not only entertaining but also encourage imaginative play.
Paper Plate Reindeer
Paper plate crafts are awesome as they are frugal, easy to make and pretty fun.
Coffee Sleeve Rudolph
To make your own Rudolph all you need is a red pom pom, two big googlie eyes, a brown pipe cleaner, a coffee sleeve and ideally a hot glue gun.
Rudolph Puppets
Who doesn't love puppets? Your kiddos will love pretending to be Rudolph and putting on fun plays!
R is for Rudolph
Draw an "R" bubble letter on a piece of brown paper and cut it out. Cut out a red circle and top it with red glitter for the nose. Glue on a big googly eye and draw a smile with black marker. Finish off Rudolph with some hooves (black marker).
Reindeer Headband
This reindeer headband would look adorable for a class Christmas party, for the kids at Christmas dinner, or really any time during the holiday season!
Christmas Wreaths
Transform ordinary objects into festive masterpieces with Christmas wreath crafting. Use green paint, stickers, and ribbon to adorn the wreaths with holiday cheer. This activity is excellent for developing fine motor skills as little fingers grasp and place decorations.
Tissue Paper Christmas Wreath
Toddlers and preschoolers alike will delight in this fun Christmas craft. There is just something about tissue paper that excites children of all ages.
Paper Plate Christmas Wreath
I love this paper Christmas wreath. Glued to My Crafts gives full instructions, and the supplies are things you more than likely have on hand, besides the sparkly pom-pom balls. This is a great project for toddlers and preschoolers.
Wreath with a Candle
If you're looking for a Christmas wreath craft that is a bit more advanced, this wreath with a paper candle in the middle is adorable. It would make a fantastic craft to give to their grandparents as a little gift.
Handprint Christmas Wreath
Here is another adorable paper Christmas wreath that you can make with your kids. Arty Crafty Kids gives full instructions; it's easy for preschoolers and kindergarteners to follow. Grab some different colors of green for construction paper – or cardstock – buttons, glue, and some ribbon.
Rolled Paper Christmas Wreath
Here is a unique idea for making paper Christmas wreaths – using rolled construction paper. I've never seen a wreath like this before!
This craft would be harder for younger kids, so be prepared to give assistance for rolling the const
Related Post: 11 Christmas Wreath Crafts
Frosty Friends Snowmen Crafts
Crafting snowmen is a classic winter activity that never gets old. This simple and tactile craft helps develop fine motor skills as little fingers grasp and glue. Encourage your child to give each snowman a unique personality by adding buttons, googly eyes, and felt accessories.
Melting Snowman Craft
This melting snowman craft will be loads of fun for your toddler or preschooler! As much as we love to go play in the snow, sometimes a snowman craft is a much better alternative!
Fingerprint Snowman Ornament
Make a Christmas ornament and keepsake in one with this adorable fingerprint snowman ornament made on a wood slice. This rustic Christmas craft is perfect for toddlers, preschooler and older children too!
Picasso Snowman
This arty snowman craft is that perfect kid-friendly art project that is easy to do and only needs a couple of supplies.
---
The holiday season is a magical time for families, and Christmas crafts for toddlers and preschoolers add an extra layer of enchantment.
From handprint reindeers to picasso snowmen, each craft not only sparks creativity but also creates cherished memories.
So, gather your craft supplies, put on your favorite holiday tunes, and let the festive crafting begin. May your home be filled with the joy and wonder of the season!