Are you ready to flutter into a world of creativity with your little ones? Caterpillar crafts are a fantastic way to engage children in hands-on activities while sparking their imaginations. From vibrant paper chains to adorable pom-pom caterpillars, these crafts will have your children buzzing with excitement as they learn about these fascinating creatures.
Get ready to explore the wonderful world of caterpillar crafts and watch your child's creativity soar!
Why Craft with Toddlers and Preschoolers?
Crafting with preschoolers is a delightful and beneficial experience that nurtures their creativity and development. Engaging in hands-on art activities helps children develop fine motor skills, enhances their cognitive abilities, and encourages self-expression.
Here are a few reasons why crafting with preschoolers is so valuable:
Enhances fine motor skills: Crafts involving cutting, gluing, and drawing help strengthen small muscles and improve hand-eye coordination.
Fosters creativity and imagination: Art activities allow preschoolers to explore their imagination, experiment with colors, shapes, and textures, and develop their unique artistic style.
Boosts cognitive development: Crafting stimulates problem-solving skills, critical thinking, and spatial awareness as children plan and execute their projects.
Encourages self-expression: Through art, preschoolers can express their emotions, thoughts, and experiences in a non-verbal and safe way, promoting their social and emotional development.
Builds confidence and self-esteem: Completing craft projects gives preschoolers a sense of accomplishment, boosting their confidence and nurturing a positive self-image.
Crafting with Toddlers and Preschooler Tips
When it comes to crafting with toddlers and preschoolers, here are some helpful tips to ensure a successful and enjoyable experience for everyone involved:
Choose age-appropriate activities: Select crafts that match the developmental abilities of young children, considering their fine motor skills, attention span, and level of comprehension.
Keep it simple: Opt for crafts with fewer steps and minimal materials to avoid overwhelming young children and to maintain their interest and engagement.
Emphasize process over outcome: Focus on the experience and exploration rather than the end result. Encourage creativity, experimentation, and self-expression during the crafting process.
Use child-friendly materials: Ensure that the materials you provide are safe, non-toxic, and suitable for young children. Avoid small parts that can be a choking hazard.
Offer assistance when needed: Be ready to provide support and guidance when necessary, especially for tasks that may be challenging for toddlers and preschoolers, such as cutting or tying knots.
Create a designated workspace: Set up a dedicated area for crafting that is easily accessible and provides enough room for children to work comfortably. Use protective coverings to avoid messes.
Encourage independence: Allow children to make decisions, choose colors, and explore their own ideas. Foster their confidence and autonomy by letting them take the lead in their craft projects.
Incorporate sensory elements: Include materials and activities that engage different senses, such as textured papers, scented markers, or tactile playdough, to enhance the sensory experience.
Keep it fun and flexible: Maintain a relaxed and positive atmosphere during crafting sessions. Remember that the process is more important than the final product, so embrace imperfections and enjoy the journey together.
By following these tips, you can create a nurturing and engaging environment for crafting with toddlers and preschoolers, fostering their creativity, fine motor skills, and overall development while having a lot of fun along the way.
Toddler and Preschool Crafting Supplies
When it comes to crafting with toddlers and preschoolers, it's essential to have the right supplies on hand to ensure a smooth and enjoyable experience.
Here are some must-have crafting supplies:
Washable paints: Choose non-toxic, washable paints in a variety of vibrant colors. Finger paints or watercolor paints are great options for little ones.
Paintbrushes: Provide a range of brush sizes to accommodate different painting techniques and preferences.
Safety scissors: Select child-safe scissors with rounded edges to introduce cutting skills while prioritizing safety.
Construction paper: Stock up on a variety of colorful construction paper for drawing, cutting, and collating.
Glue sticks: Opt for child-friendly glue sticks that are easy to handle and dry quickly, allowing for mess-free crafting.
Washable markers: Invest in washable markers in different colors for drawing, coloring, and decorating projects.
Stickers: Have a collection of fun and colorful stickers that children can use to embellish their crafts.
Playdough: Offer a set of playdough in various colors to promote sensory exploration and sculpting activities.
Pompoms and pipe cleaners: These versatile materials can be used for various crafts, such as creating creatures or decorating objects.
Googly eyes: Add a touch of whimsy to crafts with adhesive googly eyes that bring characters and creations to life.
By having these crafting supplies readily available, you'll be well-equipped to engage toddlers and preschoolers in a wide range of creative activities while fostering their imagination, fine motor skills, and artistic expression.
Teaching Littles's Favorite Caterpillar Crafts for Toddlers and Preschoolers
Our favorite caterpillar crafts for toddlers and preschoolers are sure to bring joy and creativity into their lives. From paper plate caterpillars to handprint caterpillar art, these adorable projects will not only entertain but also help develop fine motor skills and inspire imaginative play.
Looking for a delightful and engaging crafting activity for your little ones? Look no further than these adorable pom-pom caterpillars!
They are not only colorful and fuzzy but also incredibly simple to create.
Just gather some vibrant pom-poms, googly eyes, and glue, and you're all set! For an extra touch, you can even make cute leaves using construction paper or cardstock, scissors, and a hole punch.
Indulge in some crafty fun with your little ones by creating this delightful 3D paper caterpillar craft! Whether you opt for a freehand design or utilize our handy printable caterpillar craft template, the end result will surely be a charming and wriggly masterpiece.
Simply follow the lines while cutting, and watch your creation come to life!
This is a fun caterpillar craft that kids can mostly do on their own! Simply coloring the popsicle sticks, a little glue, and a whole lot of imagination!
Easy Caterpillar Crafts
This craft requires cutting. Depending on the child's age, you may want to do the tracing and/or the cutting for them. That way you can provide the child with the foam pieces to work with, and the child can simply glue them together.
Embark on an entertaining journey of letter recognition with these delightful alphabet caterpillars crafted by Our Kid Things. Not only do they enhance the children's literacy skills, but they also provide an opportunity for creative crafting.
Make use of items found in your home and create this cute caterpillar craft. It will be more fun if your toddler has a lot of options for the paint that they can mix and match.
With this craft the kids will be able to work on scissor skills as well as folding skills, and that makes use of their hands and abilities.
Caterpillar Crafts Using Recycled Materials
Do you have any buttons laying around that could be put to good use? This is a fun caterpillar craft that allows little fingers and imaginations to run wild.
Who doesn't have playdough containers just sitting around with dried out playdough inside? Ha!
This fun caterpillar craft gives those playdough container lids new life!
This is an easy caterpillar craft for little hands, and is the perfect way to use up those extra egg cartons laying around!
Indulge in the simplicity of a delightful rock caterpillar craft from Nellie Bellie. Using painted rocks, this craft is guaranteed to captivate your little ones.
Preschoolers adore paper plate crafts, and this effortless paper plate caterpillar craft from In the Playroom is a perfect choice for a quick and adorable creation!
Edible Caterpillar Crafts
Feast your eyes on these delectable fruit pizzas that are as delightful to look at as they are to taste! When arranged in the shape of a hungry caterpillar, they become an irresistible treat that's both visually appealing and scrumptious.
Fruit Snack
Inject a bit of fun in your normal snack routine with this adorable fruit caterpillar.
Share a snack with The Very Hungry Caterpillar! Follow these easy steps to make a kid-friendly fruit skewer inspired by the classic picture book.
This is an easy edible caterpillar craft for littles and is almost too cute to eat!
The Very Hungry Caterpillar Crafts for Toddlers and Preschoolers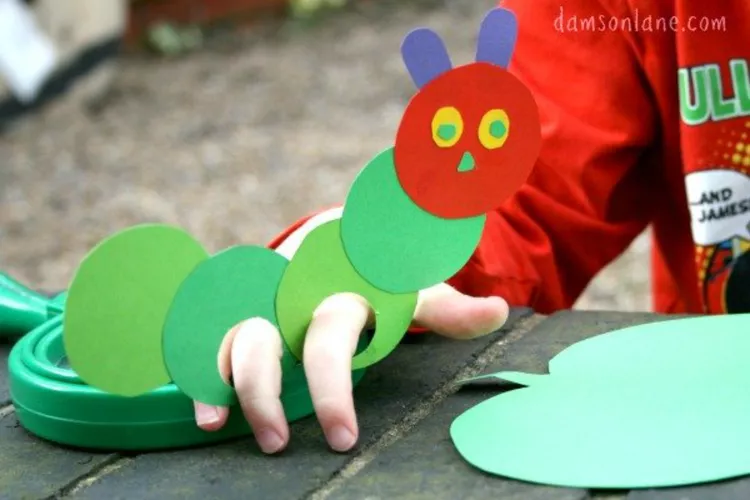 You can craft his caterpillar out of construction paper and use the puppet to recreate the Very Hungry Caterpillar story!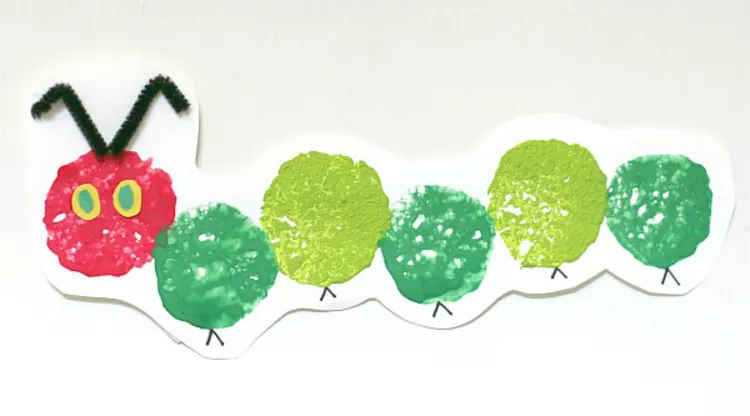 Your little ones will love sponge painting their very own Hungry Caterpillar! You can cut out circles from sponges and use them to stamp out this caterpillar craft.
Embark on a marvelous adventure with this captivating caterpillar craft, designed to pique the curiosity of any child fascinated by these fascinating insects.
With its vibrant colors and delightful shapes, the puppet craft exudes adorability, while the entire process promises endless fun.
From crafting the puppet to immersing in imaginative play, this engaging activity is bound to keep your child entertained for hours on end, fostering both creativity and a love for learning.
Caterpillar Crafts Toddlers and Preschoolers can do Independently
This caterpillar craft is so easy that little ones can do it with very little help! Once you get them started they can thread the pasta pieces on the pipe cleaner easily while fine-tuning those fine motor skills!
We love this craft for tiny hands and ease! Little ones can gather sticks, wrap pipe cleaners and add the cute heads on for an incredibly adorable caterpillar craft.
Making this caterpillar craft is the same as making a paper chain.  Create a circle with one green strip of construction paper and staple or glue the ends together.
There are a lot of ways you can use these cork caterpillars to learn. Alternate colors to learn about patterns. Count how many spots are in each caterpillar.
Compare how many more or how many fewer spots one caterpillar has than another. Mix colors to see if you can create new caterpillar colors.
Cut out the caterpillars once dry for fine motor practice.
Caterpillar Crafts for Preschoolers Using Paint
Blurb
Painting with a potato masher is so fun! Little ones will love this fun and quirky way to create a caterpillar craft.
Painting with marshmallows is the perfect way to get those caterpillar circles!
Your little one can create this caterpillar craft using just their fingerprints! Easy and fun!
This toe painting caterpillar craft is perfect if you are looking for a personalized craft for littles!
Engage in the transformative power of hand painting with your toddler, as it not only enhances their brain development but also nurtures their creativity, color recognition, and spatial intelligence.
Printable Caterpillar Crafts for Preschoolers
Discover the captivating journey of a butterfly's life cycle, from the delicate egg to the charming butterfly, with this engaging butterfly life cycle printable.
Encourage your kids to venture outdoors, gathering natural elements that symbolize each stage, as they immerse themselves in the wonders of nature's transformation.
Your littles can color, cut and glue this cute little caterpillar craft template for an easy and fun craft.
This printable craft is playful and engaging craft that incorporates shape, counting, tracing, and cutting skills all in one!
Embark on a delightful caterpillar crafting adventure with your toddler using these handy templates that make the process a breeze.
Simply cut out the provided layout, and watch as your little one unleashes their creativity by adding vibrant colors to the adorable caterpillars and leaves.
This engaging activity encourages self-expression and fine motor skills while fostering a sense of accomplishment as they bring their colorful creations to life.
Open Ended Caterpillar Crafts and Activities for Toddlers and Preschoolers
There are no pictures or links for these activities because they are (like we said) open-ended! Give your little one the supplies and let their imaginations run wild!
Caterpillar Creations: Provide various craft materials like pipe cleaners, pom-poms, buttons, feathers, and googly eyes. Let preschoolers use their imagination to create their own unique caterpillar designs using the materials.
Nature Inspired Caterpillar: Take preschoolers on a nature walk and encourage them to collect natural materials such as leaves, twigs, flowers, and rocks. Provide glue and paper or cardboard, and let them create their own caterpillar artwork using natural materials.
Recycled Caterpillar: Gather a collection of recyclable materials like cardboard tubes, egg cartons, bottle caps, and tissue boxes. Invite preschoolers to use their creativity to transform recycled items into caterpillar sculptures or artwork.
Caterpillar Prints: Set up a painting station with different colors of washable paint and large sheets of paper. Offer various objects with interesting textures, such as sponges, leaves, bubble wrap, and cotton balls. Let preschoolers dip these objects in paint and use them to create caterpillar-inspired prints.
Sensory Caterpillar: Create a sensory experience by setting up a caterpillar-themed sensory bin. Fill it with materials like rice, beans, or sensory beads, along with plastic caterpillar toys, leaves, and flowers. Encourage preschoolers to explore the textures and engage in imaginative play.
Playdough Caterpillar Habitat: Provide playdough in different colors and natural materials like pebbles, twigs, and leaves. Invite preschoolers to create a caterpillar habitat using the playdough and natural items, allowing them to design their own imaginative environments.
Caterpillar Story Stones: Collect smooth stones and draw or paint different stages of a caterpillar's life cycle on each stone. Preschoolers can use these story stones to create their own caterpillar stories and engage in imaginative play.
Caterpillar Puzzles: Cut out caterpillar shapes from colored cardstock or cardboard, then cut them into several puzzle pieces. Let preschoolers assemble the pieces to create their own caterpillar puzzles, promoting problem-solving and fine motor skills.
Caterpillar Collage Bookmarks: Provide blank bookmarks, magazines, colored paper, scissors, and glue. Encourage preschoolers to cut out pictures or shapes that remind them of caterpillars and create their own collage bookmarks.
Caterpillar Imagination Station: Set up a dedicated craft area with a variety of art supplies such as markers, crayons, colored pencils, paper, glue, and stickers. Let preschoolers explore and create caterpillar-inspired artwork in any way they desire, fostering their creativity and self-expression.
Books to Go with Caterpillar Crafts for Preschoolers
This classic children's book is a perfect companion to any caterpillar craft. Preschoolers can enjoy the colorful illustrations and follow along with the caterpillar's journey as it eats its way through various foods.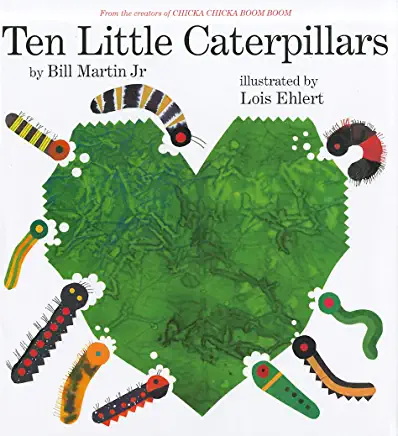 This counting book introduces preschoolers to ten different caterpillars and their unique transformations. The vivid illustrations and engaging text make it a great addition to caterpillar-themed crafts.
This non-fiction book from the National Geographic Kids series provides preschoolers with fascinating facts about the life cycle of a caterpillar. It complements caterpillar crafts by expanding their understanding of the natural world.
This heartwarming story follows a caterpillar as it embarks on a journey of self-discovery and transformation. The book's themes of change and growth align well with caterpillar crafts and can inspire meaningful discussions with preschoolers.
This beautifully illustrated book explores the life cycle of butterflies and the role of caterpillars in their transformation. Preschoolers will enjoy the vibrant artwork and learn more about caterpillars' importance in the natural world.
This charming story follows Henri the Caterpillar as he dreams of soaring through the sky. The book encourages preschoolers to embrace their dreams and aspirations, adding an imaginative element to caterpillar-themed crafts.
Easy Lesson Plans to Go Along with Caterpillar Crafts
Ready to continue learning? Here are some lesson plans to go along with your caterpillar crafts for preschoolers!
Classroom activities for an entire lesson plan unit on Eric Carle's The Very Hungry Caterpillar.
A Preschool Caterpillars and Butterflies Theme that includes preschool lesson plans, activities, and Interest Learning Center ideas for your toddler or preschooler.
A full week of fun caterpillar and butterfly activities, to make this unit even more fun consider purchasing a butterfly garden and raising your own butterflies!
---
Caterpillar crafts offer a wonderful opportunity for preschoolers to explore their creativity, develop important skills, and learn about the fascinating life cycle of these incredible creatures.
Whether it's through painting, crafting, or reading caterpillar-themed books, children can engage in open-ended activities that stimulate their imaginations and promote cognitive, motor, and sensory development.
Frequently Asked Questions about caterpillar crafts
What makes an activity a craft?
An activity can be considered a craft when it involves the use of materials and tools to create something unique and personal. Crafts typically have the following characteristics:
Hands-on creation: Crafts require active participation and manipulation of materials to produce a tangible result.
Personalization: Crafts often allow individuals to express their creativity and personal style by adding their own unique touches or adaptations to the project.
Skill development: Crafting often involves learning and practicing specific techniques or skills, such as cutting, painting, or sewing.
Focus on aesthetics: Crafts prioritize the visual appeal and artistic elements of the finished product, emphasizing the use of colors, textures, and design.
Creative problem-solving: Crafts often require problem-solving skills to overcome challenges or find alternative solutions when faced with limitations or unexpected outcomes.
What Skills Do Toddlers and Preschoolers Get from Crafting?
Crafting provides toddlers and preschoolers with a wide range of valuable skills that contribute to their overall development. Through engaging in craft activities, young children can acquire:
Fine motor skills: Crafts involve using small tools, such as paintbrushes, scissors, and glue sticks, which help enhance hand-eye coordination and refine fine motor skills.
Cognitive skills: Crafting promotes cognitive development by encouraging problem-solving, decision-making, and critical thinking as children plan and execute their craft projects.
Creativity and self-expression: Craft activities foster creativity and allow toddlers and preschoolers to express their thoughts, ideas, and emotions in a visual and tangible way.
Language and communication skills: Crafting often involves verbal interaction, allowing children to practice describing their artwork, expressing preferences, and engaging in conversations with adults or peers.
Concentration and focus: Engaging in crafts requires concentration and sustained attention, helping young children improve their ability to focus on tasks for extended periods.
Sequencing and following instructions: Craft projects often involve following step-by-step instructions, which promote the development of sequencing skills and the ability to follow directions.
Sensory exploration: Many crafts involve different textures, colors, and materials, providing opportunities for sensory exploration and stimulation.