Back to school time is almost here, so it's the perfect time for some back to school crafts! I love the first week of school and all of the fun that comes with it. I've always enjoyed combing through the school supply aisles for the cutest notebooks, pencil cases, and pens.
Although going back to school can be fun for parents, little ones may find it a bit nerve-racking, especially if it's their first time in school.
Creating fun and colorful crafts about school can make this transition easier for kids and dare I say, exciting! Here are some of my favorite back-to-school craft ideas for preschoolers and pre-k!
Related: Free Printable Back to School Word Strips
40 Back to School Crafts
How cute are these DIY pencil toppers made with felt! These would be a fun back-to-school preschool craft and will help encourage them to write and draw using pencils.
I love this pool noodle pencil activity for preschoolers! Not only would this make a fun prop for back-to-school pictures, but it would also be fun to draw with! Grab a yellow and red pool noodle from the dollar store and you can make your own pool noodle pencil!
This monster bookmark is such a fun back-to-school project for preschoolers and will be great to use for nighttime reading!
These crayon popsicle stick friends are adorable and fun for a back-to-school preschool craft idea. You can help your kiddo write to colors on each crayon to double as a color identification activity!
If your kids are anything like mine, they love the very hungry caterpillar! This line tracing activity is great for helping to develop fine motor skills with a pencil and is perfect to do before school starts!
My kids are obsessed with school buses, and if yours are too this school bus craft is perfect!
This egg carton apple and worm craft is a really cute back-to-school activity for preschoolers. Your kids will probably giggle at the fact that worms really do eat through apples, like in The Very Hungry Caterpillar! All you need is some red paint, an egg carton, and pip cleaners.
This adorable sign will be great decor for your wall or bulletin board. Use finger paint to add their handprint and then it's a keepsake for parents with a cute little poem.
A is for apple! I love these little handprint apples. This is a great back-to-school craft idea for preschoolers and really simple too!
I love the idea of making your table back to school themed the night before the first day of school! You can have your preschooler decorate, color, stamp the paper you are using to make the apples for a really fun activity.
This apple lacing craft is not only a great craft but awesome for fine motor skill development!
How fun is this musical apple shaker! Your preschooler will have lots of fun making this shaker and then have even more fun making music afterward! Simply use a couple paper plates, paint, and construction paper, and then fill it with beans, rice, or any other sensory modality you can find.
Some kiddos are naturally more anxious than others, especially when it comes to big changes. I love this worry stone back-to-school preschool activity because it allows kids to make their own worry stones and opens up the conversation for emotions like worry.
These popsicle stick apples are so adorable and a great back-to-school activity for preschoolers!
Your preschooler will love getting a little messy with this marble apple painting. Let them pick a few different colors of paint for a more personalized piece of art.
I really love this simple shape pencil craft for kiddos. Have them trace their name on the front to make it even more personalized.
This apple stamping activity is so cute and great for developing strength in the hands while holding onto the piece of apple. This makes it a wonderful back-to-school activity for preschoolers.
I love the idea of a back-to-school time capsule. Have your kiddos add in different objects and maybe a few pictures. I think it would be so special to open on the last day of school!
O'Fishally a preschooler! My kids were so excited to finally be preschoolers! This back-to-school preschool craft is perfect to get your kids excited about going to school!
These apple picture frames are so special and a really fun keepsake. Start them when your kids go into preschool and continue every year, for a fun progression!
I like this fancy first letter name craft for preschoolers. It is important for them to start learning the letters of their name and your preschooler will love decorating their first letter!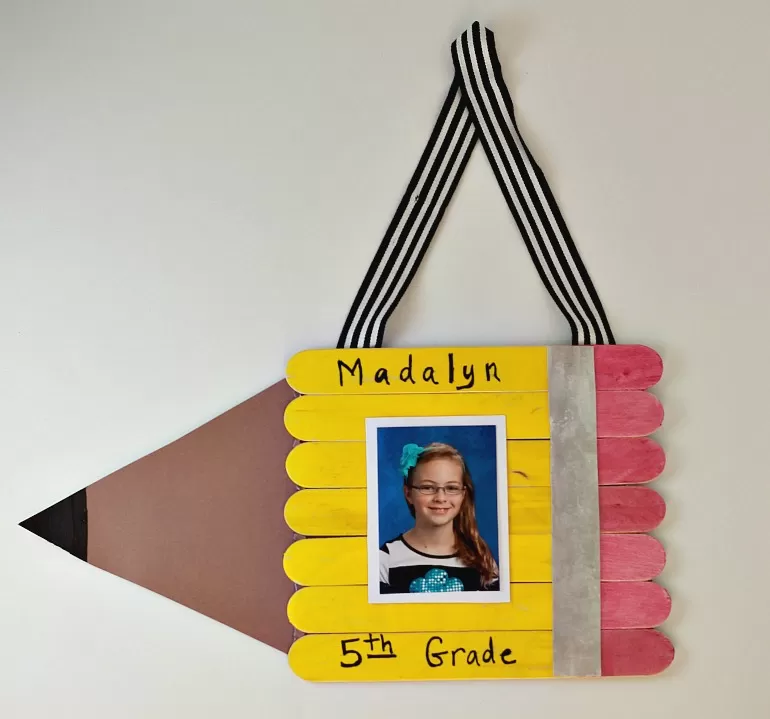 I love this pencil picture frame keepsake! The idea of making one each year is so sweet and will leave you feeling nostalgic.
This stained glass apple window craft is an adorable and fun back-to-school project for preschoolers, and will look great hanging on your window!
If your preschooler is like mine, they love bubble wrap! Your kiddo will have so much fun stamping their apple with a piece of bubble wrap and making a wonderful piece of art!
This paper plate school bus is a fantastic back-to-school activity for preschoolers! Use different shapes for the windows and have your preschooler match the different shapes and identify them!
I love this pencil name activity for preschoolers. This will help them to learn the letters of their name and the order they go in!
This paper plate apple craft is so fun for preschoolers! Have them rip up and glue their own pieces of paper for a great fine motor skill activity!
This footprint craft is so cute! As you are painting your little one's feet they are bound to get the ticklish giggles!
Kindness is so important when going to school and is important to talk to our kids about. This simple craft is a great conversation starter for children getting ready to go back to school!
How cute is this back-to-school coloring sheet for preschoolers? This is the perfect back-to-school preschool activity! As your preschooler is coloring have them point out different supplies that they recognize!
I love this I Spy printable for a back-to-school activity! This activity helps with counting and identification skills!
This is a super easy craft that makes little chalkboards for kids to practice their skills. They use modge-podge and buttons to practice Decoden crafting, which is decorating with little items and trinkets. It's so adorable!
If your child loves reading, this is definitely one of the easiest back to school crafts to make together. It's simple and fun to make, and I bet you have all the supplies on hand already.
These are adorable and would look so cute in the classroom or at home. Chances are you have all the materials you need available. Kids can use these to store school supplies like crayons, markers, and scissors.
Here is a cute idea that kids can use for decoration in the classroom or around the room. All it takes is some twine, yarn, and felt to make the leaves. Teachers would love this as gifts as well for the first day of school!
Look at this adorable back to school crafts! Kids love all things school bus related; riding the school bus is a milestone so many kids want to experience. You can create a school bus shaped card to celebrate the first day of school and your child's first school bus ride.
If you're looking for back to school crafts for preschoolers, this tissue paper apple craft is just that! Your preschooler uses tissue paper to create an apple on a piece of yardstick; it's an adorable craft perfect to hang on the fridge. It also goes with any apple themed unit!
Your kids will love these fuzzy heart monster backpack charms; they're a fun craft to make with your kids. They attach to your backpack, and kids can customize them however they want!
This is such a fun project to make for preschoolers. It is fun to play with but also incorporates skills needed for kindergarten readiness like cutting skills.
These are fun apple shaped stress balls, perfect as one of the back to school crafts. All you need is some balloons and flour, and you can decorate them with a felt leaf. Your kids will love playing with these!
This bundle includes resources for early math and literacy development with very little prep. Including apple sorting, letter matching, letter sounds, word families, letter tracing, and dot activities.
Students can write their responses on each crayon for a wonderful back to school activity and craft.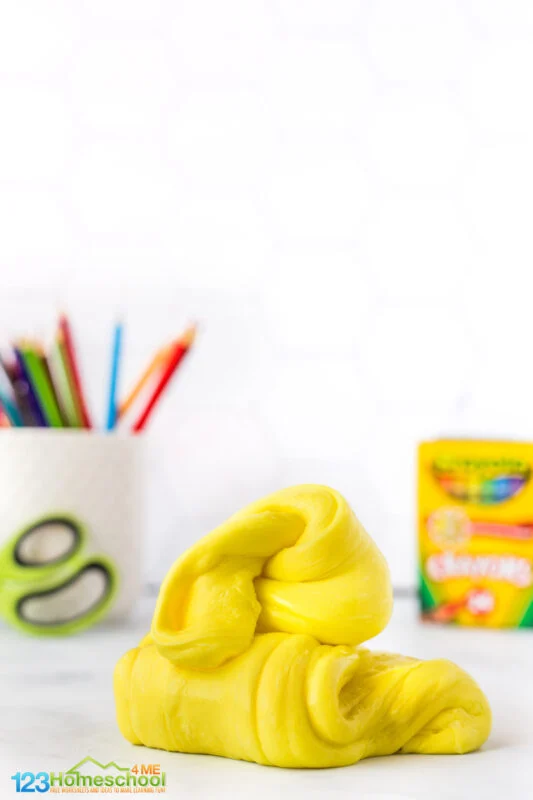 This slime uses baking soda as the activator for a wonderful sheen and flow without being sticky at all! And with the first day of school just around the corner, the yellow color is perfect!
How cute are these fun fridge magnets you can design with your kids? Growing up, I could never find my name in those specialty crafts, so creating my own was essential!
Add some fun to the end of your pencil with these silly and not-so-scary Model Magic monster pencil toppers!
All you need for this project is the model magic primary colors, model magic neon colors, and erasable colored pencils.
More Fun Ideas:
46. Apple Print Tote Bag: Create a personalized tote bag by using an apple cut in half as a stamp. Dip the cut side of the apple in acrylic paint and press it onto a plain canvas tote bag. Repeat with different colors to create a vibrant apple print pattern.
47. School Bus Bookmark: Make a cute school bus bookmark using yellow craft foam or construction paper. Cut out the shape of a school bus, add details with markers or colored paper, and laminate it for durability. Use it to mark your place in your favorite books.
48. Crayon Box Organizer: Recycle an empty tissue box or shoebox to make a crayon box organizer. Decorate the box with wrapping paper or colored paper, then arrange and store crayons inside. This craft keeps art supplies neat and accessible.
49. Handprint Apple Tree: Celebrate the back-to-school season by creating a handprint apple tree. Dip your child's hand in brown paint and press it onto a piece of paper. After it dries, use red paint or markers to add apples to the tree branches.
50. Pencil Holder: Transform an empty tin can into a stylish pencil holder. Clean the can, decorate it with patterned paper or stickers, and fill it with pencils, pens, or markers. This craft provides a practical and organized storage solution.
51. School Bus Collage: Make a school bus collage using colored construction paper, glue, and scissors. Cut out shapes to represent the different parts of a school bus, like windows, wheels, and lights, then assemble and glue them onto a larger piece of paper.
52. Apple Necklace: Design a fun apple necklace using red and green beads, string, and a small apple-shaped pendant. Thread the beads onto the string, alternating red and green, and add the pendant at the center. Tie the ends together to create a wearable apple-themed accessory.
53. Chalkboard Photo Frame: Personalize a photo frame with chalkboard paint. Paint the frame with the chalkboard paint and let it dry. Once dry, write a back-to-school message or your child's name on the frame using chalk. Insert a favorite photo to complete the craft.
54. ABC Magnet Craft: Make your own alphabet magnets using foam letters, magnetic strips, and craft glue. Attach the foam letters to the magnetic strips and let them dry. Now your little one can have fun arranging and playing with their own set of ABC magnets on the fridge.
55. Apple Sun Catcher: Craft a beautiful apple sun catcher using tissue paper, contact paper, and scissors. Cut out an apple shape from the contact paper and peel off the backing. Stick small pieces of colorful tissue paper onto the sticky side of the contact paper, then attach another sheet of contact paper on top to seal it. Hang it near a window and let the sunlight shine through.
---
I hope that your preschooler has a great first year of school! Please let me know in the comments below which crafts your tried and what your favorite was!