Are you searching for a delightful and educational activity to help your little one learn to write their name? Name writing is a fundamental skill that supports a child's cognitive, social, and emotional development.
It sets the stage for further literacy growth, fosters self-expression, and instills a sense of personal identity. We have a fantastic freebie for you: an editable name-writing printable that will make the learning process engaging and enjoyable. Download below!
How do you Practice Name Writing in Preschool?
In preschool, practicing name writing is a crucial step in developing early literacy skills. Here are some fun and effective ways to engage your little ones in name-writing:
Start with tracing: Begin by providing your preschooler with their name written in dotted lines or highlighting the letters for them to trace. This helps them become familiar with the shape and formation of each letter. Get our free editable name-writing printable below!
Sensory name writing: Create a sensory tray filled with materials like sand, salt, or shaving cream. Have your child write their name using their finger or a tool, allowing them to explore the tactile sensations while practicing letter formation.
Playdough names: Roll out playdough and have your child shape the letters of their name. This hands-on activity strengthens fine motor skills and reinforces letter recognition.
Name puzzles: Make a name puzzle by writing each letter of your child's name on separate puzzle pieces. They can then assemble the puzzle to spell their name, promoting letter sequencing and problem-solving.
Name collage: Cut out letters from magazines or newspapers and let your child create a collage of their name. This activity combines letter recognition with creativity.
Name writing in context: Integrate name writing into everyday activities. Encourage your child to sign their artwork, label their belongings, or participate in group projects using their name.
Remember, patience and positive reinforcement are key during the name-writing journey. Celebrate their efforts and progress, and make sure to make the experience enjoyable and engaging.
Why is Name Writing an Important Skill?
Name writing is an important skill for preschool-aged children for several different reasons:
Personal identity: Learning to write their own name allows children to develop a sense of personal identity and ownership. It gives them a connection to their individuality and helps them understand that their name represents who they are.
Literacy foundation: Name writing serves as a foundational step toward developing literacy skills. It introduces children to letter recognition, letter formation, and letter sequencing, which are essential components of reading and writing.
Letter-sound correspondence: When children write their names, they begin to associate the letters with their corresponding sounds. This connection helps build phonemic awareness, which is a vital skill for reading and spelling words.
Fine motor skills: Writing their name requires coordination and control of small muscles in the hand. Practicing name writing helps develop fine motor skills, such as hand-eye coordination, grip strength, and dexterity, which are essential for future writing tasks.
Confidence and independence: Being able to write their name empowers children and boosts their confidence. It gives them a sense of accomplishment and encourages their independence as they take pride in their ability to communicate through writing.
Practical applications: Name writing has practical applications in everyday life. Children use their names to identify personal belongings, sign their artwork, and participate in various activities. Mastering name writing enables them to navigate social and educational environments more confidently.
Steps for Name Writing
Teaching name writing to preschoolers can be done through three easy steps:
1.Letter Recognition and Repetition: Start by helping the child recognize the letters in their name. Show them their name is written out and point to each letter while saying its name.
Repeat this step several times to reinforce letter recognition.
2. Tracing and Writing Practice: Provide tracing activities where the child can practice tracing their name using dotted lines or highlighter markers. This helps them develop muscle memory and learn the proper formation of each letter.
Gradually transition to writing without tracing prompts, encouraging them to write their name independently.
3. Reinforcement and Positive Feedback: Offer positive reinforcement and praise the child's efforts as they progress. Celebrate each milestone, whether it's correctly writing one letter or completing their entire name.
Make it a fun and encouraging experience by using stickers, stamps, or other rewards to motivate and engage the child.
What Does Your Child Need to Know Before Learning Name Writing?
The first step to name writing is learning the alphabet (or at least the letters in their name). You should also practice with your little one spelling their name before beginning to write it.
Pre-Name Writing Activities
Here are some of our favorite activities to enjoy with your preschooler before learning name writing.
Name Crafts
Gingerbread House Name Activity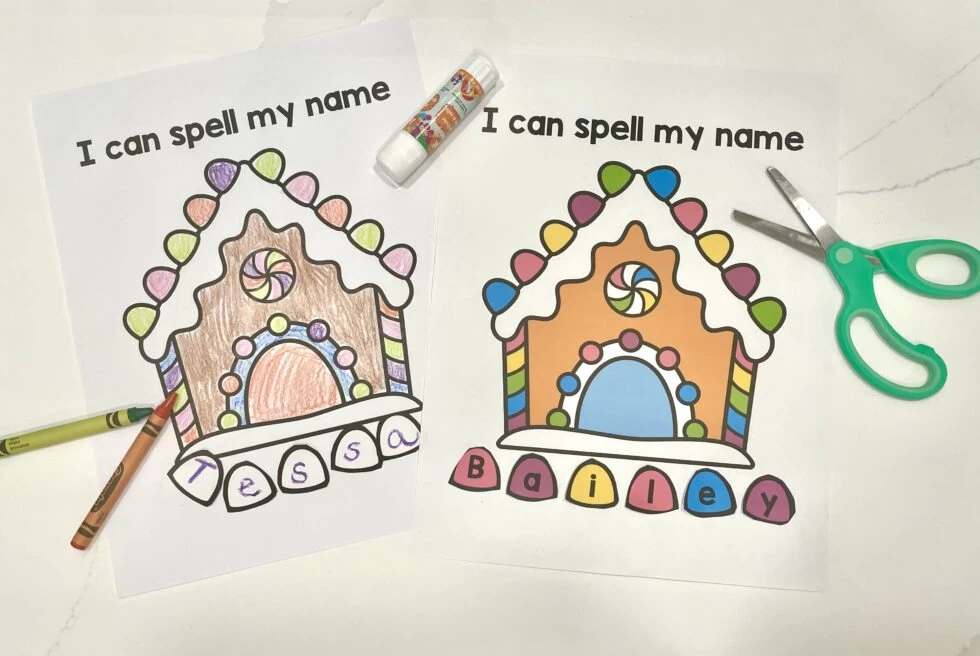 Name play in preschool has so many cognitive benefits! Recognizing their own name helps a child feel important plus, name recognition builds concepts of print and begins the process of reading!
Your child will have so much fun coloring, cutting, gluing, and writing to place their name on the gingerbread house.
If you've been trying to teach your toddler or preschooler their name to no avail, maybe they'll have a better shot if it's written on turkey feathers!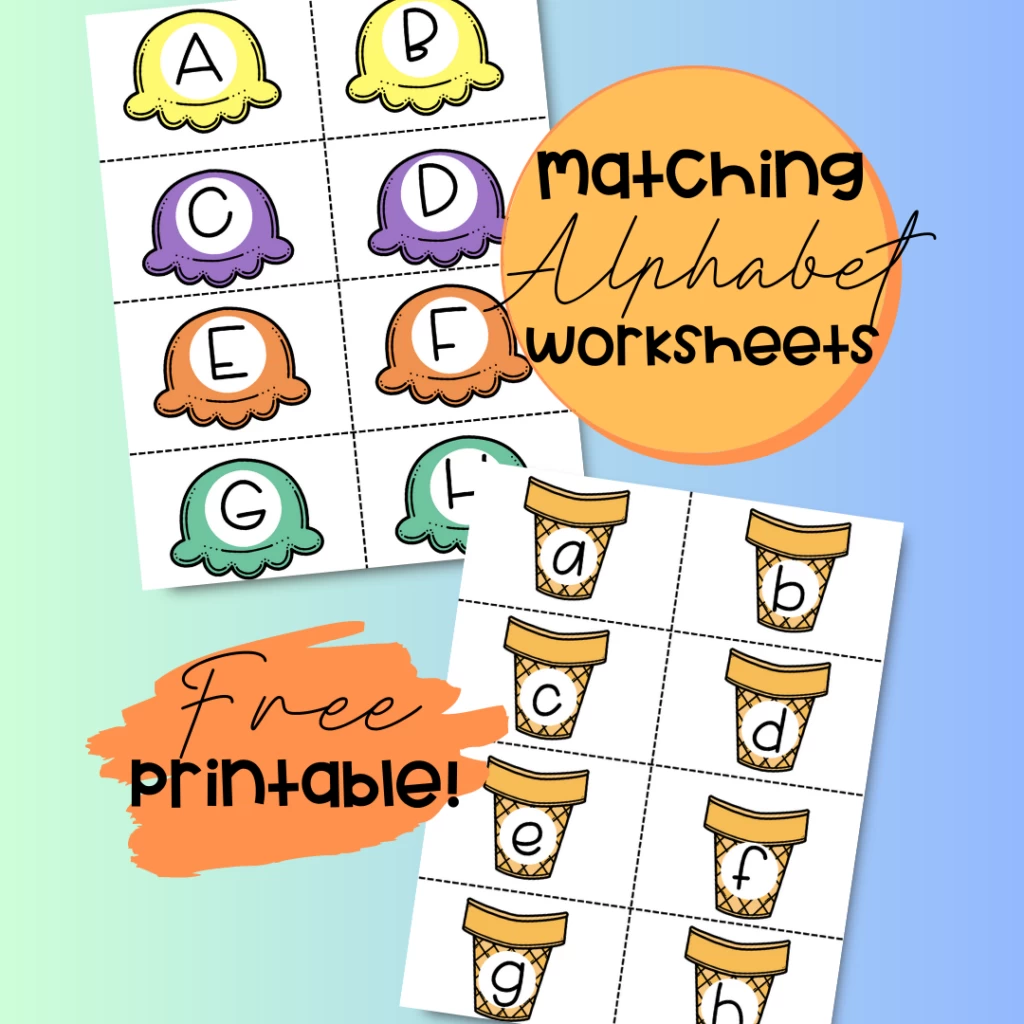 Who says learning the alphabet can't be fun and personalized? Use the ice cream scoops to spell out your child's name, and let them decorate each letter scoop with their favorite colors and designs.
This is a great way to reinforce letter recognition and spelling skills while also creating a unique and fun craft that your child can proudly display.
Name Songs
What's Your Name?
Name Songs for Circle Time
What's in My Name?
Name Puzzles
Fat Brain Toys Wooden Personalized Name Puzzle
This delightful puzzle is not only a toy but also a valuable tool for your child's learning journey. With their very own name beautifully crafted into a wooden puzzle, your child will enjoy hours of engaging play while developing important skills.
Making this puzzle is super easy. All you'll need are large craft sticks (one for each letter or your child's name), a picture of your child printed on office paper, Mod Podge, a brush for application, tape, Exacto knife or razor, and a black Sharpie marker.
Enjoy this FREE puzzle template. You can type in student's names to save you time. It makes for a great center at the beginning of the year. You can cut it up and put it in a small container for a morning work activity or literacy center. Students can even build each others names.
Name Writing Practice Using Gross and Fine Motor Skills
Writing in shaving cream is educational and supports your child's developing academic skills. Pre-writing skills and writing skills are supported and strengthened without even bringing out the paper and pencil!
This exercise themed activity for preschoolers is a great game to get your preschooler to exercise and also learn the letters of their name! Have your preschooler write their name in big letters on a white board (if you have one) as they call out the letters – you can read the exercise they are to do.
Whether your child is trying to learn the letter sounds, letter recognition, or letter formation, this activity will help them to understand and recall how to draw the letters. Using sensory materials help to awaken the mind and body and make learning fun and more memorable!
I created this editable name-writing worksheet with parents and teachers in mind! You can easily download, edit, print, and use this worksheet in your home or classroom.
Name writing practice will help enhance your preschooler's writing skills and boost their confidence.
How to Get the Editable Name Writing Worksheet
Once you enter your name and email address, the template link will be sent to your email. Open the email and click the link inside. This will bring up the editable template.
Simply click "use template" and then sign into Canva!
If you don't have Canva, don't worry – everything you need to use this template is available on the FREE account!
Once you have signed in the template will be immediately available to you!
How to Edit the Name Writing Worksheet
Once you have the template pulled up simply double-click on the dotted letters and type in your child's name! It's that easy!
Duplicating the Worksheet
If you are teaching a preschool classroom and/or you wish to create more than one name writing worksheet with a different name you can simply duplicate the worksheet by clicking the plus sign located above. (As seen in the photo below)
Once you duplicate the worksheet you can type in another name and easily print an entire classroom (or household) of names at once!
Other Ways to Use the Name Writing Worksheet
Looking for even more ways to use this free editable name tracing worksheet? Try some of the ideas below:
Rainbow writing: Provide your child with colorful markers or crayons and encourage them to write their name using different colors for each letter. This adds a fun and artistic element to the practice.
Middle or Last Name: Does your little one already know how to write their first name proficiently? Try letting them explore writing their middle or last name!
Blank Sheet: Ready for a challenge? Erase the name completely from the template and just print out the lines. Your little ones can practice writing their name all on their own!
Other Words: This template is completely editable! You can use it beyond name writing. Simply write whatever word you would like your little one to practice and they can trace away! You can even edit the title of the worksheet simply by clicking the words and typing your preference.
More Name Activities for Kids
Looking for even more name writing fun? Try some of these awesome activities!
Letter Hunt
This name letter hunt is a great one-on-one activity to do with your PreK and Kindergarten students who are eager to learn letters. Using their first name takes this activity from busy work to a more meaningful activity.
Editable Name Mats
Edit and print mats, then have students trace and make names with various writing and art materials!
Secret Message Name
Write your littles name with a white crayon or candle and then have them paint over it with watercolors to reveal the surprise! See more instructions here.
---
Helping your child learn to write their name is a valuable and meaningful activity with numerous benefits for their overall development.
By engaging in name writing, children not only acquire an essential literacy skill, but also enhance their cognitive abilities, develop social and emotional competence, and cultivate a strong sense of personal identity.
I hope you and your little one have fun with this freebie and other name writing activities!
PS Don't forget to download my FREE Editable Name Writing Printable!